PlantSys® was designed to remotely operate and support an automated boiler plant environment.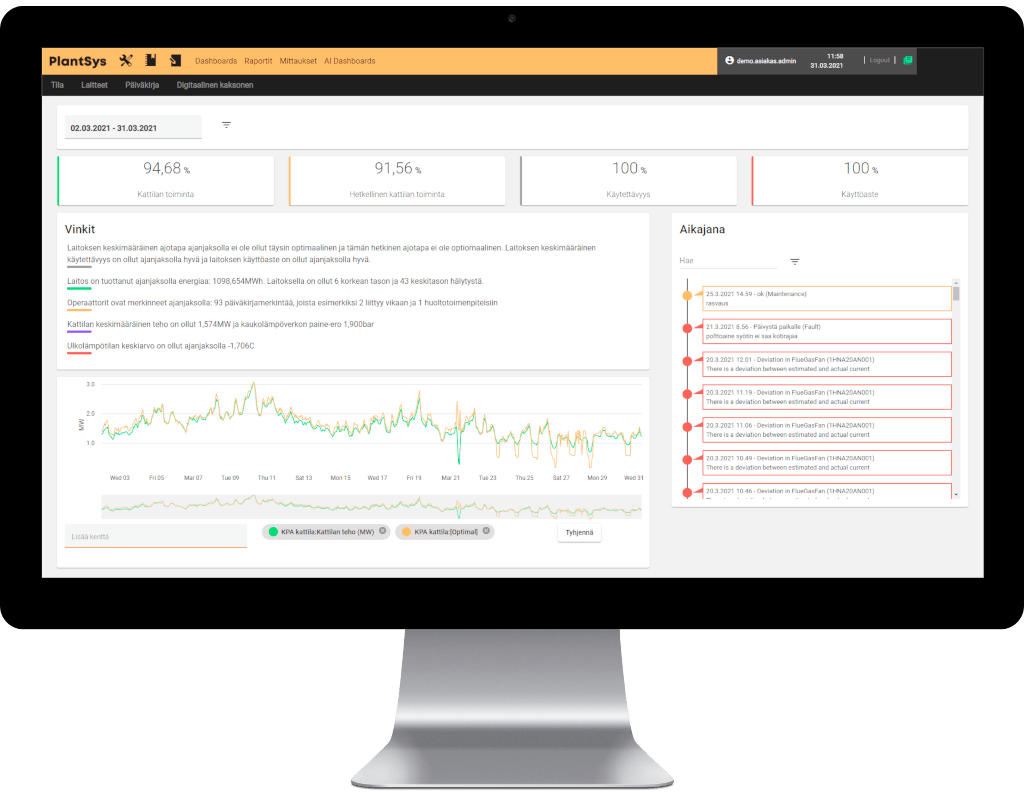 Interact
Some say we need bigger brains to solve the world's energy problems. So we built one.
PlantSys® was designed to remotely operate and support an automated boiler plant environment. Our innovative digital platform guarantees efficient and secure plant operation. It enables KPA Unicon to provide 24/7 services, and gives plant operators the data they need to make better decisions. By utilizing artificial intelligence, PlantSys® provides substantial real-time predictive analytics and guidance to manage and enhance a plant's overall efficiency. Pretty smart, eh?
Operation
Remote plant monitoring and control system
PlantSys Operation
offers a visual and user-friendly interface for your plant.
We wanted to make the display of facilities easy to read and understand using measuring values, colors and animations.
The user can access detailed information about any device, such as setting alerts, trends of the device, automation control and measurements.
PlantSys Operation is a reliable SCADA software designed in Finland and easy remote access has been the foundation of our design principles. The software can be used simultaneously from several locations.
Main features
User friendly, expandable and open platform, that is adaptable to all clean energy solutions of different sizes.
Information available in real time for trends, alerts and measurements.
Unlimited amount of measuring- and control points, with wide support for facility automation. Over 150 supported systems.
Based on reliable mobile technology – a continuously developing platform, that is used worldwide.
Alarm threshold values and alarm messages are configurable. All alarms are recorded, and they can be used for hyper tuning of the plant.
Reporting
Plant metrics always available whenever you need them
The devices generate an infinite amount of information. PlantSys Reporting helps you find the most essential bits of information, alongside the main required values.
The program summarizes all information, enabling the user to stay up to date with just a quick glance. All information is available in real time for deeper analyzing.
PlantSys Reporting is available over the internet, secure, and accessible on any device. The user can access all the information gathered during the use of the clean energy solution.
The reporting service displays all key information in hourly averages. In addition, the system displays measuring data by the minute.
Main features
Fast and easy to deploy almost on every plant at reasonable cost.
Every minute full snapshot of the monitored plant is stored and accessible by the user.
Predefined dashboards for most common scenarios like production and emission follow-up.
Custom dashboards can be easily made by on-demand.
Table presentation for numerical data and easy exporting to external tools.
Maintenance
Intelligent and predictive maintenance in mobile
Better availability, lower costs.
Our digitalized maintenance process helps to perform all maintenance programs punctually, eliminating most surprising error situations and improving the usability. Documenting the devices and pre-setting the maintenance program with instructions leaves more time for the actual maintenance of the devices.
Displaying the most essential devices and calculating the life span of each device adds transparency to any potential issues.
The numbers displayed of maintenance and usability are based on the actions performed and provide a realistic image of the life span of the solutions.
Main features
The device card-index organizes information, history and the attachments into one controllable life span.
Every party has real time access to the same data.
The maintenance programs are based on either time or use. Efficient work planning and previously determined instructions ensure high quality working.
Work orders are formed based on the demand, and with the help of work-queues and -groups the user can easily control resourcing.
Figures of usability based on work performance as well as breaks in operation.
Material flow
Digitalized material supply chain handling
Follow and control material flow straight from your own
smart device.
Save incoming fuel batches and book outgoing materials. Our intuitive mobile platform ensures easy usability, even from inside the trucks.
Incoming and outgoing batches can be registered into the system without leaving the truck. Using Reporting you ensure that the fuel being received is according to agreement regarding its energy content.
Main features
Guided registering of the materials ensures correct information.
The program can be integrated into the automation of the plant, enabling automation of the gates and guiding the driver to the fuel depot.
Weight of the material is displayed in real time on the screen of your smart device.
Contact
Olli Koistinen
PlantSys / Vision Services Oy
olli.koistinen@plantsys.fi
+358 40 759 9986